AKA a before and after of the new nightstand for our bedroom at the farm.  Recently John and I made the trip to the farm to kick off a major makeover.  We had a new floor installed in the kitchen, one bedroom painted and the upstairs hallway painted all within 24 hours.  Needless to say we were exhausted but sleep deprivation didn't stop me from freaking out over how ugly our "nightstand" is up there.  It may even be file drawers.  So I put a request in with Will-A-Rama.  I sent her a few photos of ones I liked at PB teen (one of my new favorite websites) setting a budget of $45.
She found this at one of her favorite stores for $45 and they agreed to sell it for $35.  The size and shape was exactly what I wanted (Pottery Barn Knock Off ish).  The finish clearly was not.
Refinishing it was as easy as watching John sand the piece and then spray paint it
.  He added a clear coat at the end to give it a smooth somewhat water resistant finish.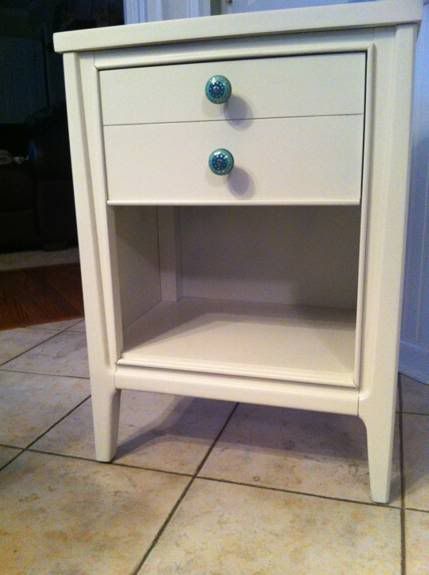 I had my eye on the knobs for a few days, then low and behold the day I planned to run to Anthropologie to pick them up they went on sale from $8.00 each to $2.95.   They're not just cute, they're cheap, you can't go wrong with that combination.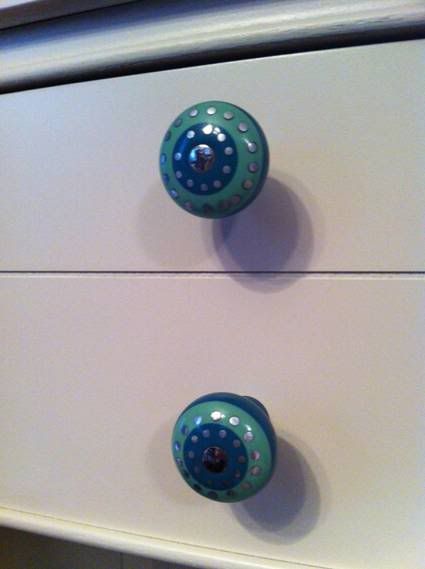 I am counting down the weeks until I'm back up there to put it in our bedroom and build an awesome stairway gallery wall I've been working on the past few weeks.